WE GO THE EXTRA MILE!
The Club was formed in the early 1980's at the height of the running boom, by a group of local like-minded enthusiasts. We are a medium sized club, and cater for a wide range of standards, from young to old, from slow joggers to fast runners. Most importantly, we are a group of runners who enjoy being out, seeing the country, and staying fit.
The Club has active male and female cross-country teams, and some members take part in fell running. We organise the popular Tadworth 10 race which takes place each year in January. There are special events for Club members, including a Summer Handicap Series, run in the evenings at various venues in the locality, a duathlon and a fell-running event. Tadworth also receives invitations to compete in numerous local events, including the North Downs Relay.
Our Club logo represents the famous Tadworth Windmill, a landmark associated with this area for centuries.
Our colours are green and white, inspired by the tree covered chalk hills of the beautiful North Downs in which Tadworth is located.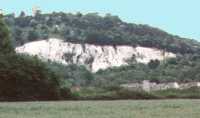 A club night is held every month. A newsletter is produced monthly, which is distributed at Club Night or posted on. A busy social calendar is also organised which usually includes a Christmas party, dinner and dance, quiz night, a visit to the Crystal Grand Prix athletics meeting, and drinks in a pub after many events. Other ad-hoc social events also occur to mark special occasions such as the club members' participation in the London Marathon. Members tend to train in small groups by local arrangement, but there is a "turn up" session every Sunday, starting at 8.30am from the bench outside the Church of the Good Shepherd in Tadworth. It covers between 8 and 15 miles (depending on the wishes of the runners), with appropriate cut-off points for those wanting a shorter distance. We also have coaching sessions most Wednesday evenings at 7.15pm, meeting at the Tea Hut Car Park, Tattenham Corner. See the events page for more details.
If you require further information about the Club, contact us at info@tac.org.uk . Do not send mail to the Church of the Good Shepherd. tac
This is a legacy site for Tadworth A.C. Please visit www.tadworth.org.uk for our new site.